do you have a construction project we can help with?
Ken Leingang Excavating, Inc.
Celebrating our 50th anniversary, KLE Inc. has served eastern Washington and northeast Oregon by providing superior excavation services.
Family owned and operated, KLE Inc. specializes in:
Complete site preparation
Fire line installation
Demolition – site clearing
Specialty construction – rock walls, tank removal, fire line installation
Utility construction – de-watering, bypass operation
KLE Inc. works with clients big and small. Our goal is to complete your project in a timely manner, to the highest quality standards.
Contact us today to learn more about all the services we provide.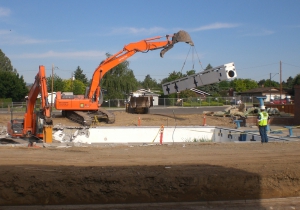 "We work to do the job right the first time. Quality work, and customer satisfaction are the most important goals of KLE Inc.
– Ken Leingang